Plants
KOCAELİ PLANTS
Biggest Commercial Vehicle Production Base in Europe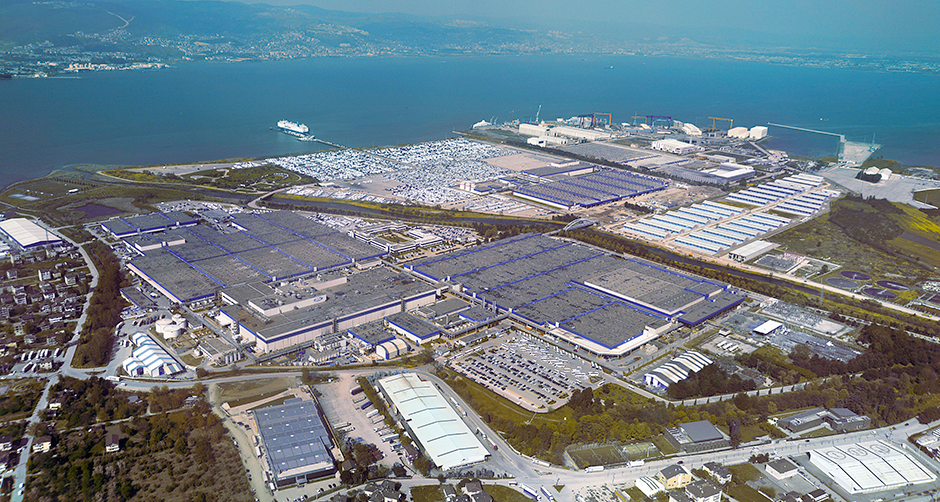 The Kocaeli plants, launched in 2001 with a production capacity of 40,000 Transits, has continued to expand over the years, and grown with efficient, flexible and high quality production. The plants in the Kocaeli compound, with a total production capacity of 440,000 units as of 2017 year-end, currently manufacture Transit, Custom, and Courier models. The Kocaeli Plants compound is home to the Gölcük and Yeniköy plants, opened in 2001 and 2014, respectively.
GÖLCÜK PLANT - "LIGHTHOUSE FACTORY" WITH ITS INDUSTRY 4.0 FOCUSED ACTIVITIES
Only plant to manufacture Custom model, and the lead manufacturing plant of Transit model

The Gölcük Plant, opened in 2001, has been Transit model's lead manufacturing plant in the world since 2004, thanks to the production quality of the Turkish workforce and high production technology. This is where the production of Transit Custom and Tourneo Custom, the light commercial vehicle versions that have been very successful, particularly in the European market, commenced in 2012. Ford Otosan's Gölcük plant is the only global production base for Custom models.
The Gölcük Plant is prominent among global Ford production plants for its top quality standards, and has been earning accolades and awards, at home and abroad, also for its environment-friendly production. Spread on a total area of 1,600,000 square meters, including 340,000 square meters of indoor space, the Gölcük Plant provides Ford Otosan a logistical advantage with its own port, and proximity to its supplier base. The plant houses a Tool-and-Die Center, Press Shop, Body Shop, Paint Shop, and Assembly Shop, and serves the entire organization with Central Maintenance, Production Planning, and Quality Assurance Departments.
The only Ford Plant in the  "Lighthouse Factory" network by World Economic Forum (WEF)
In 2019, following a comprehensive scanning of more than 1,000 leading manufacturers in all industries and geographical areas to identify lighthouses, World Economic Forum (WEF) selected the Gölcük Plant to include in the "Global Lighthouse Network". As a result of hard at work on its adoption of Fourth Industrial Revolution technologies since 2015, Gölcük Plant being named a "Lighthouse Factory," making it the only Ford plant and one of the four automotive factories worldwide to join the list.
YENİKÖY PLANT
The one and only global production center for Transit and Tourneo Courier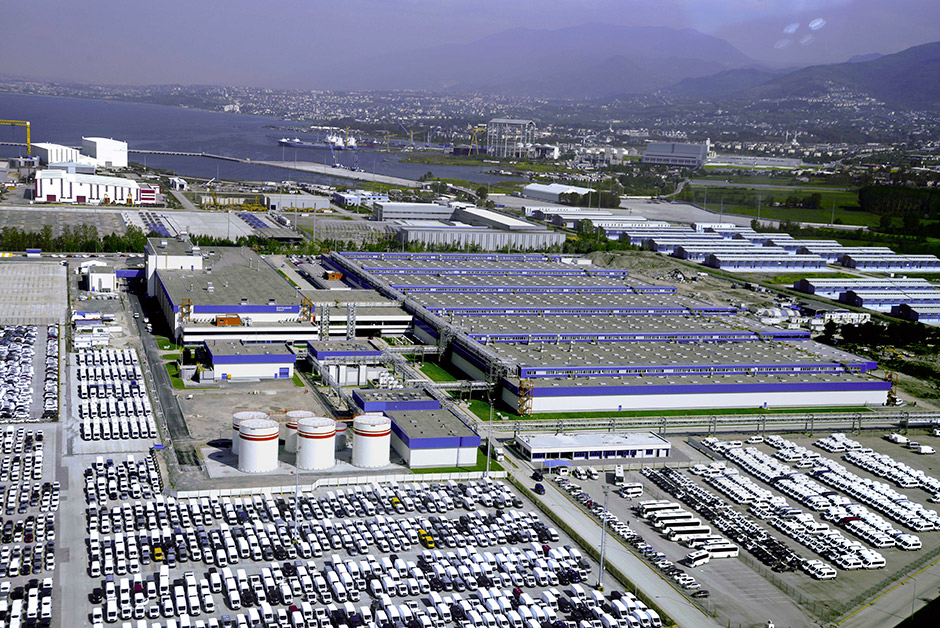 The Yeniköy Plant is the second facility that we built in Kocaeli, and the third Ford Otosan plant in Turkey. It also happens to be the first automotive plant established in Turkey in 13 years. The previous plant was the Gölcük Plant, also established by Ford Otosan. Established in a record time of 16 months, Yenikoy Plant's unique aspects make the plant a pioneer in several fields. It is Turkey's first and only plant where all activities aimed at creating a complete production environment including construction, vehicle design from scratch, prototype manufacturing, and installation of production lines were carried out simultaneously.
The production engineering and feasibility studies of the Ford Courier, a product of 100% Ford Otosan engineering, have also been conducted by the Yenikoy Plant Project Team. Courier is Ford's only commercial vehicle in the B segment and is manufactured solely at the Yeniköy Plant for export to 37 countries.
Along with its advanced technical excellence, the Yenikoy Plant is also a leading and people-oriented plant with its disabled-accessible and environment-friendly atmosphere, high female employment ratio, and occupational safety-focused qualities and has been recognized on various platforms for its achievements.
As part of the digital transformation activities, assisted by Industry 4.0 applications, processes to eliminate paper and plastic waste from quality procedures were introduced in support of our "Ecofriendly Factory" strategy. "Wastewater Recovery Project" was implemented to reduce water consumption. The actions taken to reduce consumption of natural resources at its office buildings earned Yeniköy Plant the Green Office Diploma of the WWF-Turkey Green Office Network.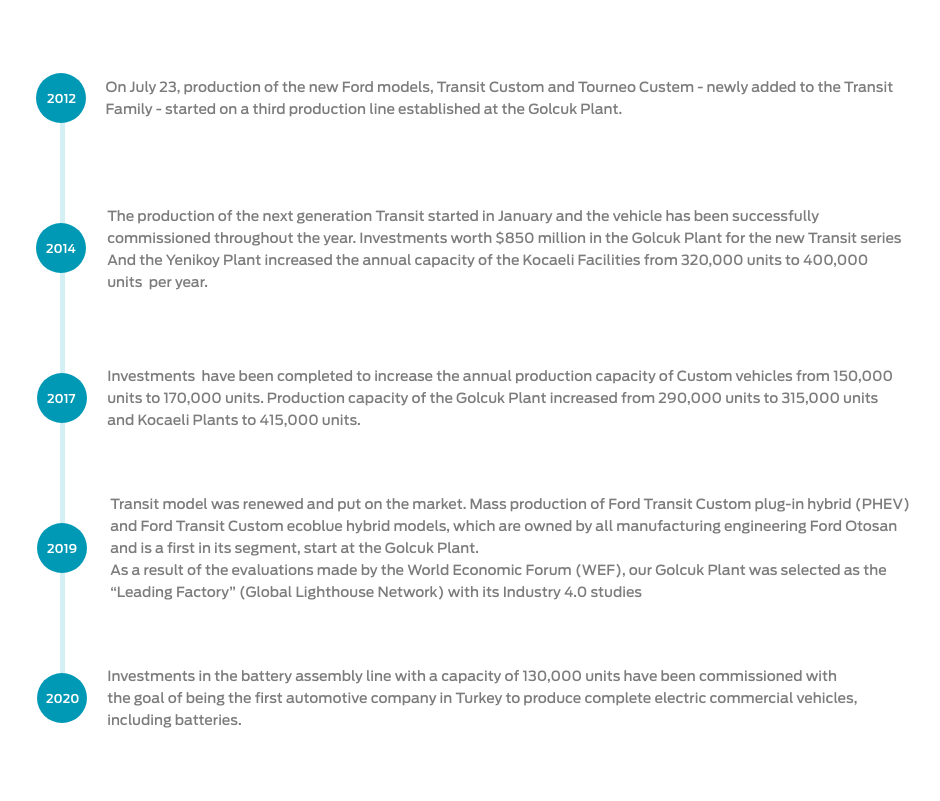 ESKİŞEHİR PLANT
Only Plant in Turkey to bring together product diversity under one roof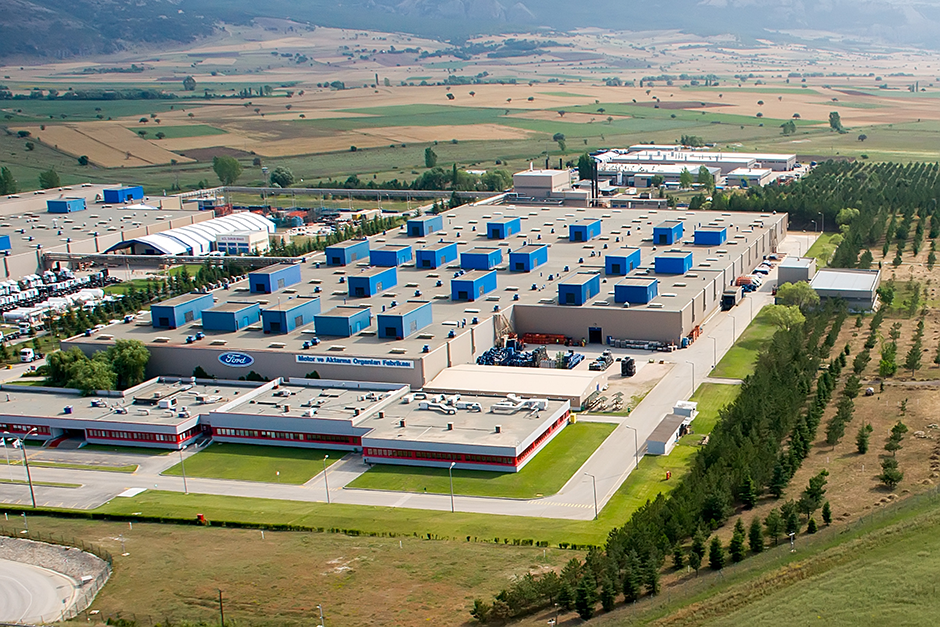 We manufacture Ford Trucks (tractors, road trucks and construction series) in addition to engines and engine systems for light and heavy commercial vehicles vehicles at the Eskişehir Plant.
The Eskişehir Plant currently spreads on total indoor area of 88,000 square meters, and 1.1 million square meters of open area. The plant's production capacity is 15,000 units of trucks and tractors, 75,000 engines for Ford Trucks and Transit models, and 140,000 rear axles for Transit.
To date, Eskişehir Plant has produced over 225,000 trucks and tractors, and more than 993,000 engines. The Ford Trucks vehicles manufactured here are exported to international markets and aims to reach 81 export markets on three continents by 2024
The Eskişehir plant, which is Ford of Europe's only production center for rear axles of Transit models, is able to export 70,000 axle pipes to North America with the capacity increase investment that began in 2018.
The Duratorq and Ecoblue engines used in the Transit models, and the Ecotorq truck engines, which are developed with over $100 million in investments, compliant with the Euro 6 emission standards, and with 100% Ford Otosan-owned intellectual property rights, are produced at the plant. Eskişehir plant is the only plant in Turkey to manufacture vehicle, diesel engine and powertrains in the same facility.
SANCAKTEPE SPARE PARTS DISTRIBUTION CENTER
Turkey's Largest Automotive Spare Parts Distribution Center

Ford Otosan's Spare Parts Distribution Center, as Turkey's largest with a warehouse spread on 35,000 square meters of indoor area, is where all of our spare parts, marketing, sales, and after sales operations are managed.
Ranking as the fourth largest among Ford's Spare Parts Distribution Centers in Europe in terms of indoor area capacity, our center offers services to 147 dealers in Turkey and 62 dealers in 54 countries abroad. With a 97% fill rate achieved through effective spare parts management, the Center performs higher than peer Ford centers.
POLAND SPARE PARTS DISTRIBUTION CENTER
A new spare parts distribution center, spread on 1,000 m2, was opened in 2017 in Poland where storage and distribution services are outsourced. The center, which serves the Ford Trucks aftersales service centers in Europe, aims to improve lead delivery times of spare parts and increase customer satisfaction.
The spare parts distribution center in Poland offers fast delivery option for urgently needed parts with delivery guarantee within 24 hours. We export parts to 17 countries via Poland and to 54 countries in total through all of our spare parts distribution centers.