Ford Otosan Takes Ford Plant in Craiova into Electric Future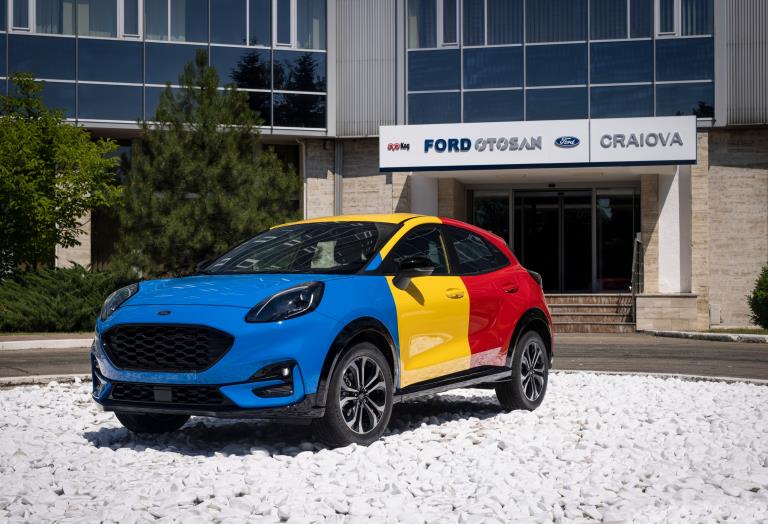 Ford Otosan Takes Ford Plant in Craiova into Electric Future
• Ford continues its accelerated transformation, Craiova Manufacturing Plant ownership transferred to Ford Otosan
• Ford Otosan plans to invest €490 million in the plant over the next three years to expand production growth and play a key role in Ford's electrification journey in Europe
• Next-gen Transit Courier to be produced in Craiova in 2023 followed by all-electric versions in 2024
• Ford Otosan to continue producing the Ford Puma, and the new all-electric Puma in 2024
CRAIOVA, Romania, July 5, 2022 – Continuing Ford's accelerated transformation of its business in Europe to achieve an all-electric future, today Ford of Europe officially transfers ownership of its Romanian plant to Ford Otosan. Following a previous announcement and regulatory approval, the agreement between Ford of Europe and Ford Otosan has now been finalised.
By combining the Craiova plant's production power with Ford Otosan's extensive experience in commercial vehicle design, engineering, and manufacturing, the facility will play a key role in Ford's electrification and commercial vehicle growth plans for Europe.
"Ford is leveraging strategic partnerships to better utilise resources by sharing investments and benefitting from a wider pool of expertise thereby boosting its electric and commercial vehicle capacity in Europe," said Stuart Rowley, chair, Ford of Europe.
Ford Otosan also announced it plans to invest €490 million in the plant over the next three years to expand production growth.
The next generation Transit Courier, including the van and combi models, designed and engineered by Ford Otosan, will be produced in Craiova and launched in 2023, and all electric versions will start production in 2024.
Ford Otosan will continue producing Ford's best-selling European passenger vehicle, the Puma, at the Craiova facility and will start building the new all-electric Ford Puma in 2024.
"With the Craiova plant acquisition, Ford Otosan is expanding its manufacturing experience and capabilities into international operations," said Güven Ozyurt, general manager, Ford Otosan. "Highly skilled employees of Craiova and their outstanding work in producing some of the most appreciated Ford products will build on Ford Otosan's success story. Craiova will benefit from the skill base and knowledge transfer through Ford Otosan's experience in designing, engineering, and building commercial vehicles as well as electrification."
Ford is also moving forward with a $2 billion conversion of its Cologne, Germany, operations to begin producing electric passenger vehicles, starting in 2023. 
Only a few days ago, Ford confirmed that it has chosen its plant in Valencia, Spain, as the preferred site to assemble vehicles based on a next-generation electric vehicle architecture. Pending product approval, the Valencia plant could produce breakthrough electric and connected vehicles beginning later this decade.
By 2026, Ford in Europe plans to sell 600,000 electric vehicles annually, supporting the global goal of 2 million-plus annual production of electric vehicles by 2026.
Ford officially took over the facility in Craiova 14 years ago, investing $2 billion and transforming it into a state-of-the-art manufacturing site.
This agreement will strengthen Ford Otosan's position as the largest commercial vehicle producer in Europe and will expand its operations internationally to create sustainable value to its shareholders. With the addition of the Craiova plant, Ford Otosan's total annual production capacity will exceed 900,000 vehicles.
Ford Otosan, the Ford joint venture in which Ford and Koç Holding are majority shareholders, is one of the longest running and most successful joint ventures in the global auto industry.
At the official handover event held in Craiova today and attended by the Prime Minister of Romania and representatives from Ford Otosan, Rowley said, "The Craiova operations have a strong record of delivering world-class competitiveness and flexibility as evidenced by the success of the Ford EcoSport, the Puma and the 1.0-litre EcoBoost engine in the European market.
"This initiative will support Ford's strategy to continue building a thriving business in Europe and to deliver against the target of  zero emissions for all vehicle sales and carbon neutrality across its European footprint of facilities, logistics and suppliers by 2035."
# # #
About Ford Motor Company
Ford Motor Company (NYSE: F) is a global company based in Dearborn, Michigan, that is committed to helping build a better world, where every person is free to move and pursue their dreams. The company's Ford+ plan for growth and value creation combines existing strengths, new capabilities and always-on relationships with customers to enrich experiences for and deepen the loyalty of those customers. Ford develops and delivers innovative, must-have Ford trucks, sport utility vehicles, commercial vans and cars and Lincoln luxury vehicles, as well as connected services. Additionally, Ford is establishing leadership positions in mobility solutions, including self-driving technology, and provides financial services through Ford Motor Credit Company. Ford employs about 182,000 people worldwide. More information about the company, its products and Ford Credit is available at corporate.ford.com.
Ford of Europe is responsible for producing, selling and servicing Ford brand vehicles in 50 individual markets and employs approximately 41,000 employees at its wholly owned facilities and consolidated joint ventures and approximately 55,000 people when unconsolidated businesses are included. In addition to Ford Motor Credit Company, Ford Europe operations include Ford Customer Service Division and 14 manufacturing facilities (10 wholly owned facilities and four unconsolidated joint venture facilities). The first Ford cars were shipped to Europe in 1903 – the same year Ford Motor Company was founded. European production started in 1911.
Contact: Michael Baumann Ana Maria Timis
 Ford of Europe Ford Romania
 +49 (0) 152 5495 2780 +40 (0) 372 516 938
 mbauman9@ford.com
atimis@ford.com
GALLERY
Ford Otosan Takes Ford Plant in Craiova into Electric Future
Ford Otosan Takes Ford Plant in Craiova into Electric Future
Ford Otosan Takes Ford Plant in Craiova into Electric Future
Ford Otosan Takes Ford Plant in Craiova into Electric Future
Ford Otosan Takes Ford Plant in Craiova into Electric Future