Total Quality
Our primary goal is customer satisfaction, which we consider an indication of our conception of quality.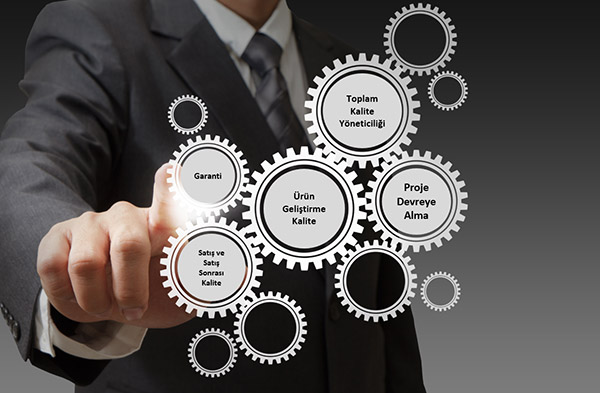 The Total Quality Department holds taking Ford Otosan's high-quality standards beyond our customers' expectations and maintaining our position as the indisputable leader in the industry as our main objectives; and we work with the aim of refining our required standards in order to make a difference to the quality of our goods and services by imbibing all aspects of the company with these same standards.
We apply the following strategies in order to fulfil these goals:
Indicating how to go beyond expectations in our design and production processes by understanding the current and future expectations of our customers.
Designing and implementing creative and innovative processes in all our services.
Ensuring simple, comprehensive, innovative, creative and sustainable processes.
Imbibing the entire organisation with a culture which values quality.
The job of our Total Quality Department includes implementing problem-solving and quality improvement processes to ensure consistent development; and achieve process development by forming simple teams all working on the same page. 
TOTAL QUALITY INTERVIEW 
ÇAĞLA SÜLÜN
1. Quality has always been of prime importance for Ford Otosan. Could you tell us about how you regard this as an issue?
Our concept of ensuring quality products, services and production relies on ensuring every team is on the same page. The primary focus of our teams ought to be producing quality vehicles; from the design to the production stage and beyond this, with the delivery of our service to customers via dealers who comply with our customer and guarantee policies during sales, post-sale and guarantee operations.
2. What is Ford Otosan's conception of quality management?
 Simple production techniques, constant improvement, Six Sigma standards, and the training and consulting of dealers in sale and post-sale services are the elements upon which our understanding of quality management is built.
3. What do you tie successful quality management to?
What is important for successful quality management, is the implementation of effective monitoring methods that quickly get to the root of any problems affecting quality, taking immediate preventative measures, gathering information on quality, reporting, and trying to improve the metrics used to determine quality.
4. Can you tell us a little about the policy of understanding quality in terms of being 'defined by the customer?'
Our main philosophy is that we should work to improve everything Ford Otosan and its authorised dealers experience beyond the sale of the product.
5. Could you tell us a little about career opportunities available at the Total Quality Department?
As your workload and level of expertise increases, then by the end of a determined period of about a year working as an expert in our department, it is possible to take another step and climb higher.